After my first attempt at using a drop-whorl spindle to make my own yarn, I decided that I wanted to learn to spin on a wheel, so I bought one. This is my spinning wheel, it is a space saving Double Treadle Ashford Joy.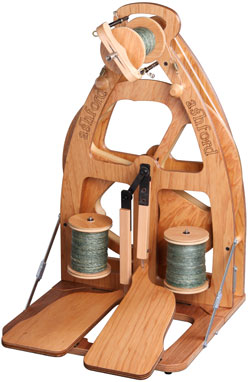 I support
The Campaign For Wool
and during National Wool Week I was lucky enough to receive a sample pack of fibres from
The British Wool Marketing Board
. I spun two of the samples individually, the first time I have ever used a spinning wheel and then plied them together, again a first for me. Here is the 100% pure wool yarn that I made. It is 35 grams and has 45 metres.
...and the close up
Not bad for a first attempt!
I made a pair of crochet baby converse with the handspun wool and some aran weight white acrylic yarn. I added some non-slip liquid to the soles.